Garching, 17. March 2022 – From May 10 to 12, 2022, Europe's telecommunications industry will meet again in Cologne for ANGA COM, the leading congress trade fair for broadband and media. Both proven and innovative solutions for broadband expansion will be on display at Raycap, an international manufacturer of products and systems for passive telecommunications infrastructure.
With tension between digitization pressure, volatile weather conditions, and the risk of vandalism, telecommunications providers are now more dependent than ever on an infrastructure that is as powerful as it is reliable. Visitors to this year's ANGA COM will attend to find solutions to these challenges in the field. Around 500 exhibitors from more than 80 countries will present broadband expansion and media distribution products. The protection of network infrastructure is crucial for future-proof telecommunications. Raycap will be offering suitable solutions at the congress trade fair, including its new cabinets and systems for fiber optic management.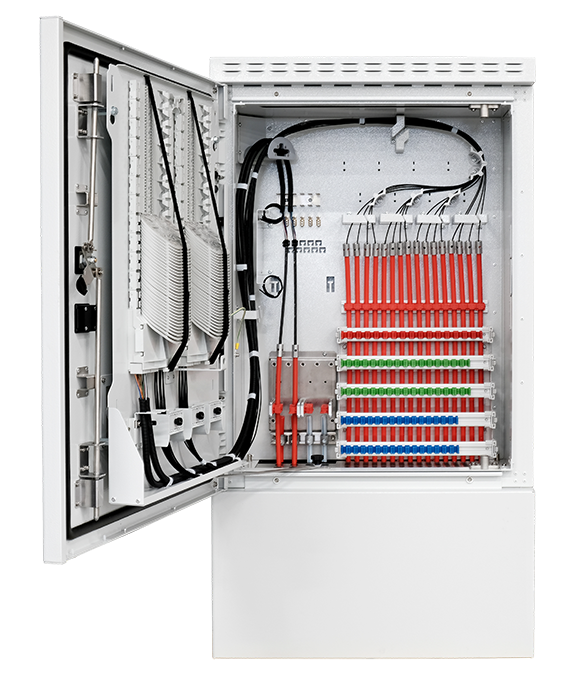 Aluminum Cabinets for Broadband Networks
Raycap relies on cabinets made of corrosion-free aluminum for all its outdoor solutions. Raycap's fiber-optic network distributors, or NVTs, are also constructed from this robust material. The resistance class WK2 (DIN EN 1627-1630) is extremely robust and resistant to external influences. The cabinets defy external force and make unauthorized access more difficult, thus protecting the network infrastructure inside from damage or tampering. With an IP55 protection rating, they are also highly weather-resistant. Removing spray paint is easy on cabinets having Raycap's optional anti-graffiti coating. The metal cabinets make the network distributors extremely robust, resistant, and durable. They do not need to be often replaced, conserving resources and protecting the environment.
MFG Series Multifunctional Cabinets
Raycap will also present its innovative double-walled MFG series modular multifunctional cabinets for outdoor use at ANGA COM. Like the NVT series, the MFGs are built of corrosion-free aluminum. The cabinets can be customized to meet specific customer requirements and are ideally suited for installing active transmission technology such as xDSL, vectoring and FTTx assemblies and passive fiber optic technology. The cabinets can be equipped with various sensors, such as door monitoring, humidity measurement or access authorization, and power distribution and supply. As a result, they offer a wide range of broadband and mobile network applications. The MFG series features high packing density, a patented micro tube management system, and variable cable entry options. The double-walled aluminum cabinets have excellent passive heat dissipation characteristics, which can be enhanced with various air-conditioning solutions if required. They share the same design features as the NVT series, enabling a homogeneous cityscape in telecom cabinets.
Fiber Optic Management Rack ODF Series
Also new are Raycap's ODF series system racks. They accommodate assemblies for splicing and patching optical fibers and help to manage excess lengths of fiber optic interconnect cables cleanly. Over 3,000 fiber connections can be made with them – depending on the connector system. The modular management rack is suitable for fiber optic backbone and access networks and features simple installation and expansion options.
The proven and new solutions from Raycap can be found at ANGA COM in hall 8 at booth E24.