Smart Home
Raycap introduces new surge protection
for KNX bus systems
Garching, March 31, 2021 – Raycap, an international manufacturer of electronic components for surge protection, connectivity and monitoring, is expanding its portfolio of surge protection solutions designed for smart homes. The RayDat KNX reliably protects bus systems from surge damage and is plugged directly onto the slot of the KNX bus coupler. If required, the protective element can also be placed in a device box. In this way, the investment in the smart home infrastructure can be reliably protected without much effort.
Smart homes are enjoying increasing popularity. In the course of digitalization, they simplify the lives of residents. But a reliable bus system is needed to ensure trouble-free and user-friendly operability. The KNX standard in particular has become a widely accepted standard due to its high level of manufacturer-independent interoperability between different devices. Heating, ventilation, blinds, lighting and garden irrigation can all be controlled and programmed centrally without any problems.
However, networked homes also harbor risks. If communication fails, systems in the entire house can begin to malfunction. This can happen, for example, if the KNX bus system is damaged by a surge event, causing communication between the devices in the house to stop working. This is not only very annoying, but can also result in expensive repairs. To meet the needs of the market, Raycap has developed the RayDat KNX. This additional product development of the proven RayDat series is specifically designed to protect KNX bus systems.
Reliable protection against all surge events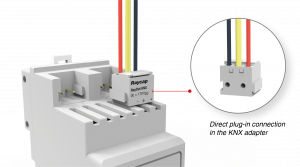 The RayDat KNX is placed directly on the slot of the BUS coupler. As a simple plug-and-play solution, the unit can be implemented without much effort. Due to its good protection properties, the RayDat KNX already triggers at low overvoltages of 5 kA or at lightning pulse currents of 1 kA. This, along with other home electrical protection solutions that are installed, reliably protects the communication network in the house from damage caused by overvoltage events. This protection not only ensures the functioning of the KNX bus system, but also protects the expensive and sensitive products connected to it from damage and maintains availability. The RayDat KNX is tested according to IEC/EN 61643-21 for protection classes D1, C2 and C1. It thus protects not only against damage caused by lightning strikes, but also against overvoltage damage caused by load peaks.
With the RayDat KNX, Raycap completes its portfolio for all-round surge protection of residential buildings. In the future, not only individual components such as a photovoltaic system, the power supply as well as the telephone line can be protected against overvoltage in the Smart House, but also the KNX bus system in the Smart House.
Press Release
---
Cleverly combined

Raycap develops Type 2 Din Rail mounted surge
protection device with integrated fuse
Garching, January 27, 2021 – Raycap, an international manufacturer of electronic components for surge protection, surge monitoring and connectivity solutions, launches a new line of 2-in-1 surge protectors for demanding industrial applications. The pluggable ProTec T2F Type 2 arrester with integrated fuse saves space in the control cabinet and facilitates installation as well as maintenance, thus reducing overall costs.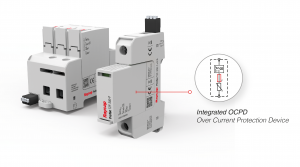 The new type 2 arrester ProTec T2F has a protection level of 1,500 V, a maximum discharge capacity of 40 kA 8/20 μs and a rated discharge current of 20 kA 8/20 μs with no back-up fuse needed. Thus, in addition to the proven Raycap ProTec T2 product technology, which was developed for use in systems with a rated current of up to 315 A, without back-up fuse. This product can offer protection that is independent of the installed fuses in equipment in larger factories and industrial plants.
Compact design saves space and facilitates installation
With integrated fuse and external fuse holder assembly eliminated, the Raycap ProTec T2F offers up to 50 percent less space requirement in the control cabinet compared to conventional type 2 arresters with external back-up fuses. The combined device conforms to standard DIN Rail dimensions, making the overall installation faster and cost-effective.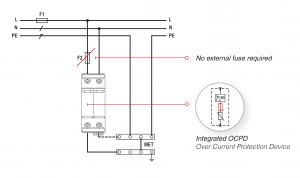 In addition, the practical 2-in-1 device simplifies planning, installation and maintenance. For example, the question of dimensioning the back-up fuse does not arise with the ProTec T2F, as this is already integrated and matched to its performance parameters. Selectivity of the proper fuse now plays a subordinate role, since the combination device is already correctly configured.
"With integrated fuse, the ProTec T2F not only saves our customers time, space and money during planning and installation, it also makes maintenance and replacement of the assembly enormously easier," says Ralf Güthoff, General Manager Lightning and Surge Protection at Raycap.
Highest protection – even against low short-circuit currents
Raycap paid particular attention to the metal oxide varistor (MOV) and developed a special fuse for this technology combination. This design increases the overall safety of the respective system and prevents its complete shutdown as a result of an overvoltage and short circuit event. "With the ProTec T2F, we offer a compact type 2 arrester with an integrated fuse that protects the technology on-site just as safely as it protects people. Unforeseen, usually costly production shutdowns can thus be prevented," explains Ralf Güthoff.
The new Raycap ProTec T2F complies with IEC class II according to IEC 61643-11. For more information please send an email to info@raycap.com.
Press Release
---
VDE-certified surge protection with integrated pre-fuse enables space-savings in cabinet installations
Garching, 22. September 2020 – Raycap, an international manufacturer of electronic components for surge protection, connectivity and monitoring, presents the third generation of its ZPS phase-tap arrester series. Due to an integrated back-up fuse with 25 kA short circuit resistance, the ZPS+F is even easier to install and takes up less space than the predecessor models.
Raycap presented the first generation of ZPS arresters with phase taps last year, and now the ZPS product series innovations continue. As with the previous generation, the new ZPS+F can be plugged directly onto the busbar of the 40 mm system and, because of its compact design, can be easily installed in all distribution cabinets between two SH switches. The ZPS+F supplies the voltage supply for a gateway via its phase tap, without the need to expand the busbar system for a separate phase tap. A new feature is the particularly uncomplicated and therefore fast wiring. Due to an integrated back-up fuse with 25 kA short-circuit capability, a separate back-up fuse and wiring from the SPD to the fuse is no longer necessary. This makes the ZPS+F a two-in-one solution.
Raycap has also further simplified the wiring to the gateway. The enclosed wiring set makes the ZPS+F a practical plug-and-play solution for installers. The elements can be used directly due to the corresponding cable length and the specified connectors. Cutting and crimping of the different cable lengths is no longer necessary. The installer has only to unpack the arrester, place it on the busbar without the use of tools and wire the direct path to the gateway or modem.
The ZPS+F is VDE tested and certified for the protection classes Type 1+2+3. This provides the necessary protection against direct lightning impulses, as well as protection of the terminal devices against overvoltages, for example the modem and the gateway in the pre-counter area. In addition, the surge protection can be integrated into the monitoring software of smart homes via optional telecommunication contacts. This makes it possible to always keep an eye on the status of the surge protection.
"In the further development of our ZPS series, we wanted to increase the opportunity to save space in the cabinet on the one hand, and to further simplify the installation on the other. The two-in-one solution ZPS+F with integrated back-up fuse enables us to achieve this. Thanks to VDE certification, end customers and installers can be sure that the protection of the connected infrastructure against damage caused by surge events is always guaranteed," explains Ralf Güthoff, General Manager Lightning and Surge Protection at Raycap. for more information contact info@raycap.com
Press Release
---
5G infrastructure in cities and communities
InvisiWaveTM  from Raycap makes antennas and transmitters invisible
 Garching, 15.09.2020 – Raycap, international manufacturer of products and systems for passive telecommunication infrastructure, has developed the novel material InvisiWave, based on a patent-pending composite material. This development helps carriers, local authorities and municipalities to push the expansion of the 5G infrastructure into more populated inner city areas. Due to its special properties, claddings made of InvisiWave do not significantly affect the5G mm wavelengths (mmWave) signal strength. This allows operators  for the first time to combine the demands of both aesthetics and signal strength. In addition, inserting screen panels made of InvisiWave can be easily used to upgrade existing 4G cell sites to 5G.
The expansion of 5G infrastructure is taking shape; the demand for higher speeds and bandwidths is accelerating this process. The driving force behind 5G is the new transmitters in the mmWave range, and the associated antenna systems, whose cell radii are around 100 m.
However, the expansion of the 5G infrastructure is causing discussions in many places. Antennas and transmitter masts disturb the cityscape – especially in historic old towns – and usually have to be covered up for aesthetic reasons. However, conventional coverings are often made of materials that will severely affect 5G signal strength. As a result, the existing materials used to hide infrastructure is not approprate for 5G networks. To enable signal strength and network coverage and aesthetic requirements, Raycap has developed the new and patent-pending material InvisiWave. For the first time, carriers, local authorities and municipalities can now make the infrastructure necessary for 5G network expansion "invisible" without compromising signal quality. An important step on the way to the Smart City.
InvisiWave enables small cell locations in street lamps, distribution cabinets, flower pots or other street furniture without the signal strength being significantly reduced by the material of the cladding. Thus, the network coverage is significantly increased without negatively affecting the visual appearance of the street scene. The safety of the infrastructure is also taken into account. The claddings made of InvisiWave are not only fireproof but also protect the sensitive technology against vandalism.
Easy upgrade of existing sites
The new InvisiWave screen panels can also be used to upgrade existing 4G sites to covert wireless sites to 5G. This involves replacing a small panel or aperture of the existing wall structure with a covert InvisiWave Screen Panel to hide the 5G mm Wave equipment without compromising performance and coverage. With the world's first drop-in upgrade of a 5G small-cell panel for existing covert broadcast points, the existing infrastructure can be easily and more economically upgraded. This allows operators to expand their 5G infrastructure without having to create new sites.
"We wanted to find a way to design the 5G infrastructure in cities in such a way that it would not be conspicuous in the cityscape. At the same time, however, it is important that the cladding does not or only marginally affect the signal quality. Based on this objective we developed InvisiWave. Also with a view to promoting smart cities," explains Volker Lange, Vice President Sales EMEA at Raycap.
About Raycap
Raycap is an international solutions provider and manufacturer of telecommunications infrastructure products for broadband and mobile networks, as well as industrial electrical protection systems, with operations throughout Europe and North America. Raycap employs more than 1,500 people at eight facilities worldwide and has its own test laboratories and a strong R&D Division. Products are certified according to national and international standards. Telecom concealment solutions are marketed under the STEALTH® and APELIO brands, while surge protection brands include Strikesorb®, SafeTec, ProTec & RayDat. For more information, contact telecom@raycap.de
Press Release
Photos
---
Raycap ProTec T1S
Compact lightning and surge protection for critical infrastructures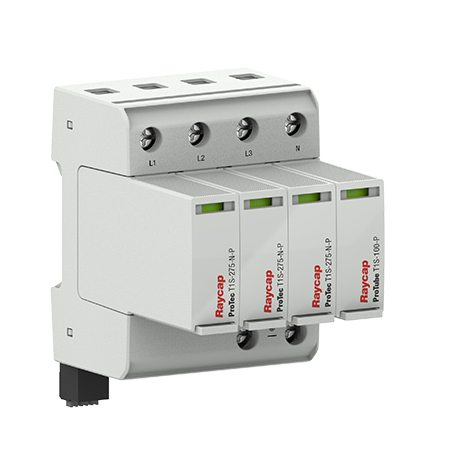 The ProTec T1S is Raycap's latest technological development in the field of surge protection.
It's the smallest pluggable SPD of test class I at 25 kA 10/350 μs in a 1HP (17.5 mm) DIN package.
It reduces the installation space needed by half, and protects downstream installed equipment – even under demanding mains conditions.
Garching, April 21, 2020 – Raycap, an international manufacturer of electronic components for surge protection, connectivity and monitoring, is expanding its portfolio. ProTec T1S is currently the most compact pluggable surge protection device on the market that meets the requirements of test class I according to IEC 61643-11. The company uses a newly patented, multi-cell Phase GDT technology
Small, smaller, smallest – For many years, manufacturers of surge protection devices have been working on developing a Surge Protective Device (SPD) with 25 kA 10/350 μs Test Class I in a DIN housing smaller than 2TE. The challenge has now been successfully met by Raycap. With the ProTec T1S, the company offers the first pluggable device on the market that meets these requirements at 25 kA 10/350 μs in a 1HP (17.5 mm) DIN package. In addition, the new SPD provides the necessary voltage switching technology without the disadvantages of a high residual voltage or follow current.
Due to its compact design of only 4HP with the highest discharge capacity of 100 kA 10/350 µs, the ProTec T1S reduces the required installation space by half. At the same time, the SPD protects the downstream built-in devices with one of the fastest tripping characteristics for type 1 surge arresters. This makes it suitable for use wherever maximum safety is required, but space is limited.
Follower current control and package size as a challenge
The difficulties in developing a compact pluggable SPD with the above-mentioned requirements using classic surge protection technologies had until now stopped manufacturers from doing so.
For example, voltage-switching SPDs are designed to trigger a conductive state as soon as an overvoltage exceeds a defined threshold. At the same time, they are comparatively simple in design and can provide high surge protection in a compact housing. The problem is, however, that they offer a comparatively poor – i.e. high – protection level and often have problems switching off the follow-on current. So-called follow current control refers to the ability of an SPD to switch itself out of the circuit as soon as the overvoltage is removed. An SPD with a low follow current control is therefore only suitable for networks where the expected short-circuit current of the mains supply is lower than the follow current rating of the device. If the short-circuit current is higher, there is a risk that the SPD will fail. Voltage-switching SPDs can therefore be implemented compactly and with high overvoltage protection, but have poor follow current control. A circumstance that limits the maximum power for which they can be installed.
Voltage-limiting SPDs such as metal oxide varistors (MOV), on the other hand, are designed to protect a device by limiting overvoltages by switching to a low impedance state. Unlike voltage-switching SPDs, the problem of switching off the follow-on current is not important for them, as they return to their high-impedance state after the overvoltage. Voltage-limiting SPDs can therefore be installed in any power supply system – regardless of the expected residual current. They also offer a good level of protection. Although they compensate for the disadvantages of voltage switching SPDs, they require a larger design if the required overvoltage value of a Class I SPD is to be achieved.
The best of two worlds
In order to develop an ideal class I SPD, Raycap therefore relies on a newly patented technology called Phase Gas Discharge Tube (PGDT) for the ProTec T1S. The multi-cell, encapsulated GDT technology combines the features of voltage limiting and voltage switching SPDs. Voltage switching technology allows a small installation space without the disadvantages of a high residual voltage or a poor follow current rating. A novel multi-cell design reduces the follow-on current to such an extent that ProTec T1S behaves similarly to MOV-based technologies and can therefore also be installed in networks with high prospective short-circuit residual currents (SCCR). And this with half the footprint of products from other suppliers, which optimizes space utilization in the control cabinet.
Raycap has many years of experience in the development and production of reliable and durable products. The combination of this know-how with the newly patented PGDT technology offers users a solution for demanding environments where repetitive surge events occur. At the same time, the ProTec T1S protects systems against lightning events under demanding grid conditions such as grid faults or very high prospective currents without affecting the grid.
Further features and advantages of PGDT technology
Due to the PGDT technology used, the SPDs of the ProTec T1S series comply with IEC Class I according to IEC 61643-11, which means they are suitable for locations where direct or indirect lightning currents according to IEC 62305-4 can be expected. They are also VDE-certified according to the applicable IEC and European standards. Furthermore, the devices have been tested – and are therefore suitable – for repeated operations in networks with an Ip of up to 50 kA 50/60 Hz.
Thanks to a low residual voltage of Up = 1.5 kV, the devices of the ProTec T1S series can be easily coordinated with Class III SPDs in the network. The same applies to properly installed Class II SPDs. The cable length between the products does not have to be considered. In addition, the SPDs have voltage-free communication contacts for remote maintenance and a visual red/green status display. To prevent hot, conductive, ionized gases from escaping, Raycap also uses an encapsulated design. All important parts are housed in a hermetically sealed cell.
Raycap has also thought about the end of the product life cycle during development. The design of the devices allows efficient mechanical and thermal separation. This allows the device to be safely disconnected from the mains and – if necessary – a defect can be reported.
More information about the ProTec T1S as well as other components from the field of surge protection and the other Raycap product series can be found at www.raycap.de
---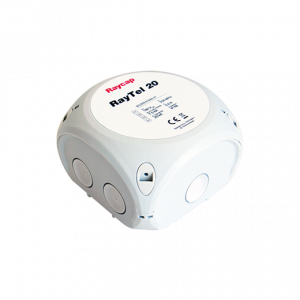 Garching, 01.06.2020 – Raycap, an international manufacturer of electronic components for surge protection, connectivity and monitoring, is introducing its latest product for surge protection. The RayTel 20 is designed for use in telecommunications and signal processing networks to protect against the indirect and direct effects of lightning strikes and other transient overvoltages.
The device offers maximum safety through a high pulse strength with 7 kA lightning current discharge capability (limp 10/350 μs). Due to its small and compact design of 92x92x62mm, installation of RayTel 20 is quick and easy. With a simple wall mounting design, the surge protection can be installed directly at the building entrance. PushIn connections enable the RayTel20 to offer a high degree of convenience when installing because the cables can be easily plugged in without much effort. The RayTel 20 is extensively tested for categories D1, C3, C2 and C1, and the device protects against lightning strikes as well as small and overvoltages when using bandwidths up to 250MHz. The IP65 certified device reliably protects the infrastructure and enables high availability of the telephone system.
With RayTel 20 Raycap continues its series of high-quality and reliable products for surge protection. Like all Raycap solutions, this one also meets the highest standards and thus offers customers the greatest possible security with reduced effort.
More information about RayTel 20 and other components from the field of surge protection and other Raycap product ranges can be found at www.raycap.de.