Raycap Exclusive Surge Protection Component Technology
Strikesorb – a unique MOV technology
Raycap's patented Strikesorb® technology is a patented protection solution that ensures vital equipment does not experience downtime due to lightning or other power surge events. Strikesorb's unique design features a distribution grade metal oxide varistor (MOV) that can handle much larger surges without affecting performance. The company has made significant R & D and operational investments to develop and validate Strikesorb to meet global safety standards. Strikesorb has been engineered and tested for use in AC and DC power applications, and the Strikesrob 30, 40 and 80 modules are compliant to IEC 61643-11 and the UL 1449 5th Edition Safety Standards.  Strikesorb 35 is for DC applications and is a Type 1 SPD, per the EN 50539-11 IEC standard for surge protection devices, and a Type 2 component assembly SPD per UL 1449 5th Edition.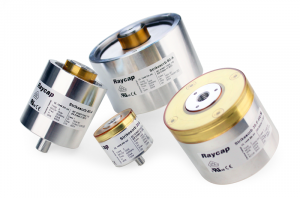 Wherever deployed, Strikesorb technology will significantly improve the availability of the equipment
it protects.
 Key Benefits
Strikesorb is a patented technology that ensures the continuous protection of mission-critical equipment.

It provides a very safe solution to any environment because it eliminates the use of materials which could burn, smoke or explode.

Strikesorb SPDs are tested and certified according to international safety and performance standards,
IEC and UL.

The technology can withstand thousands of repetitive surge events without failure or degradation, so it is considered a maintenance-free technology. This is unlike any other surge protection technology on the market.

Its fuse-less operation offers unparalleled performance against lightning and power surges, making it the most reliable SPD for protection of the entire installation.

Strikesorb's inherent capacity to resist high short-circuit currents enables flexible integration into industrial systems and "in-line" installation in both AC and DC applications without the need for a dedicated fuse.

Installing Strikesorb results in the lowest possible let-through voltage and ensures optimum protection levels of critical infrastructure equipment.

Based on years of field performance, Strikesorb's expected lifetime is more than 20 years, and all modules are supplied with a 10-year limited lifetime warranty.
Read more about Strikesorb Technology in this Strikesorb White Paper
ProTec T1S Featuring Phase GDT Technology
Raycap's proprietary Phase-GDT (PGDT) has been developed to optimize both Voltage Switching and Voltage Limiting SPD technologies to create an ideal
Class I SPD in a DIN Rail design – where a compact package is possible using voltage-switching technology but without the drawbacks of a high residual voltage or poor follow-current rating. ProTec T1S utilizes a breakthrough multi-cell, encapsulated GDT technology, to achieve a residual voltage like that of an MOV-based SPD, but in a footprint half the size of the market competition and without restrictions governing where on a network it may be installed.
PGDT Features & Benefits
Compliant with IEC Class I testing per IEC 61643-11 – making it suitable for use in locations where direct, or partial direct, lightning currents can be expected per IEC 62305-4.
VDE mark – certified to applicable IEC and European norms under low voltage directives.
High surge capacity but without the problems of follow-current extinguishing – can be installed on networks having high prospective short circuit fault currents (SCCR).
Tested to be suitable for repeated operations on networks with Ip as high as 50 kA 50/60 Hz.
Multi-cell design reduces follow-current to the point it behaves much like MOV based technology – unlike conventional spark gap technology where the high follow-current causes the gap electrodes to degrade after each operation, PGDT provides a long operational life.
Low residual voltage Up= 1.5 kV – can effectively be coordinated with other Class II or Class III SPDs on the network. It can be coordinated with any properly installed Class II SPD without the need to consider cable length in between the products.
High surge rating in a compact, pluggable, DIN package – half the footprint of competitive products optimizes
panel board real estate.
Encapsulated design, vital parts are housed inside a hermetically sealed cell – no expulsion of hot, conductive, ionized gasses.
Improved design ergonomics – features a retaining clip against vibration and shock.
Change over contacts for remote monitoring
Efficient internal mechanical thermal disconnects – enables safe and reliable end-of-life behaviour on networks
Red/Green status indicator
Read more about it here ProTec T1S Position Paper
ProTec Hybrid Technology
ProTec Hybrid technology developed by Raycap features a special series connection of a varistor and a gas discharge tube. The technology is leakage-current free.
Special Features
IEC/EN:                         Class I + II / Type 1 + 2

Location of use:             Main Distribution Boards

Protective element:       GDT and MOV

Surge ratings:                Iimp = 25 kA, 

I

n

= 25 kA

Max Discharge Current: Imax = 65 kA

Housing:                       Pluggable design

Backup Fuse:                315 A gG up to 50 kA

Patented design:           Special varistor development

Leakage current free
For more information see ProTec ZPS Brochure
SafeTec Surge Protection Technology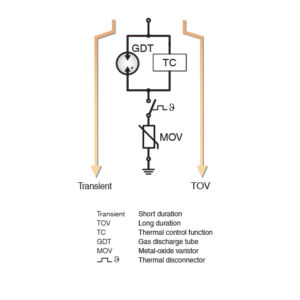 The patented SafeTec technology is an open circuit mode in combination with current limiting technology. This current limiting control prevents permanent disconnection during adverse temporary overvoltage (TOV) conditions. SafeTec delivers a reliable solution for all overvoltages, surges and transients.
SafeTec technology serves as a current limiter in the event of unexpected faults in power supply networks and ensures that the maximum current through the MOV in the initial state of conductivity is a few amperes. The current balance is quickly established at a level of about 10 mA. The unique SafeTec technology ensures that the current does not exceed the MOVs energy handling capability and prevents unwanted SPD disconnection from the power supply. The all in one technology is suitable for all DC and AC applications.
Special Features
High temporary overvoltage (TOV) immunity

High maximum discharge current capacity (Imax) of 50 kA

State-of-the-art thermal disconnector

Continuous power to the equipment at end-of-life (EOL)

AC current up to 880 V

Back-up fuse up to 315 A gG

Short circuit current rating up to 50 kA

Vibration and shock withstand capability

All modules, including N-PE with operating state green-red

Optional remote contact (RC) signaling

VDE-IEC Class II / EN Type 2 certified and UL Type 1CA

Worldwide patented thermal control (TC) technology

5-year warranty, 10-year life span

Low-maintenance cost

Modular, pluggable, field replaceable modules
Read more about it here SafeTec Technologies EN
ProTec ADV Technology
ProTec ADV is a unique technology developed by Raycap that features specially treated autonomous varistors that provide reliable determination of the first switching disconnector, and the redundancy of two powerful separate varistors, both of which are functionally connected to provide a unique safety advantage. These safety reserve systems are imperative and serve a growing need for notifications or alerts when changes in conditions occur. This technology is ideally suited for a variety of environments that protect
critical infrastructure.
Special Features
Safety reserve – 3 stage status indicator

Available in a wide variety of operating voltages from 75 V to 480 V

High surge maximum discharge current capability of 50 kA

State-of-the-art thermal disconnector

Backup fuse up to 315 A gG

Vibration and shock withstand capability

Optional remote contact (RC) signaling

VDE Class II / Type 2 certified, UL Type 1CA