Some of the brightest minds in the industry – Working for you
Raycap R&D engineers collaborate to develop innovative new designs at the company's leading laboratories and test facilities worldwide. Raycap's global R&D operation is responsive to customer requests no matter the complexity of the problem or geographic region. Because many customer applications are absolutely mission critical, failure is not an option. Raycap's R&D teams are driven to produce electrical protection, connectivity and monitoring solutions that keep the customer's critical applications up and running.
Specialized prototyping facilities are available in Europe and the USA to support rapid custom design development. With the latest CAD design tools, prototyping and machining equipment, Raycap can easily provide quick-turn prototypes designed specifically to customer requirements.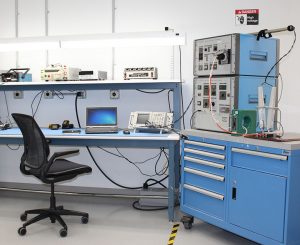 Raycap products are developed for certification by global standards bodies. Testing facilities include a UL-certified test lab in the United States and state-of-the-art R&D labs in Europe, certified by VDE. At the company's factory in Drama northern Greece a photovoltaic (PV) testing lab at the Raycap PV power plant enables engineers to simulate the performance of the company's surge protection solutions in an actual PV environment.
We understand our customer's business, and design custom solutions that fit 100% of their requirements. Failure is not an option.