About Raycap
Raycap is a global leader in infrastructure and power protection solutions for telecommunications, energy, renewable energy and transportation sectors. It manufactures industrial surge protection, cabling and connectivity solutions; power and telecom cabinets and customized enclosures; and RF-friendly concealment solutions for 4G and 5G networks.
Read more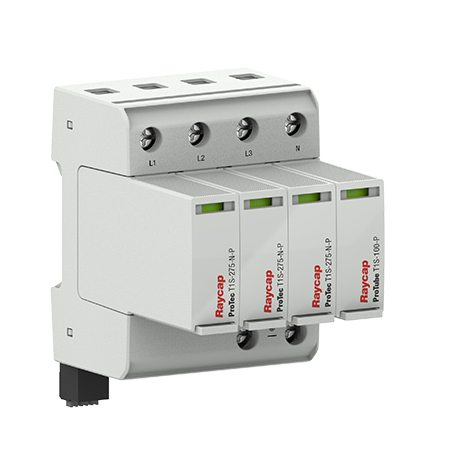 Raycap ProTec T1S
Compact lightning and surge protection for critical infrastructures
Garching, April 21, 2020 -Raycap, an international manufacturer of electronic components for surge protection, connectivity and monitoring, is expanding its portfolio. ProTec T1S is currently the most compact pluggable surge protection device on the market that meets the requirements of test class I according to IEC 61643-11. The product uses a newly patented, multi-cell GDT technology.
Small, smaller, smallest – For many years, manufacturers of surge protection devices have been working on developing a Surge Protective Device (SPD) with 25 kA 10/350 μs Test Class I in a DIN housing smaller than 2TE. The challenge has now been successfully achieved by Raycap. With the ProTec T1S, the company offers the first pluggable device on the market that meets these requirements at 25 kA 10/350 μs in a 1HP (17.5 mm) DIN package. In addition, the new SPD provides the necessary voltage switching technology without the disadvantages of a high residual voltage or low follow current nominal power.
Read more