About Raycap
Raycap is a global leader in infrastructure and power protection solutions for telecommunications, energy, renewable energy and transportation sectors. It manufactures industrial surge protection, cabling and connectivity solutions; power and telecom cabinets and customized enclosures; and RF-friendly concealment solutions for 4G and 5G networks.
Read more
Introducing Raycap's new ProTec T1SF Series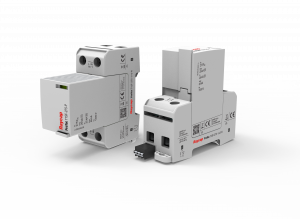 The products are based on Raycap's patented Phase Gas Discharge Tube (PGDT) and integrated overcurrent protection technologies. This unique design combines the protection of a separate fuse into one SPD, saving space in the control cabinet.
Integrated backup fuse features:
Quick installation – no external fuse required
Space saving – smallest T1 SPD with integrated fuse in its class
Saves costs – less wiring time and less material
Permanent control – signalization enables monitoring of both the fuse and the SPD
More Info