About Raycap
Raycap is a global leader in infrastructure and power protection solutions for telecommunications, energy, renewable energy and transportation sectors. It manufactures industrial surge protection, cabling and connectivity solutions; power and telecom cabinets and customized enclosures; and RF-friendly concealment solutions for 4G and 5G networks.
Read more
New surge protection for KNX bus systems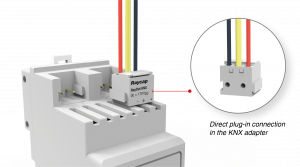 RayDat KNX  
As smart homes enjoy increasing popularity, a reliable bus system is needed to ensure trouble-free and user-friendly operability of the various digital systems within the home. The KNX standard in particular has become a widely accepted standard for such applications due to its high level of manufacturer-independent interoperability between different devices including such things as heating, ventilation, blinds, lighting and garden irrigation which all can be controlled and programmed centrally.
Raycap's new RayDat KNX product reliably protects the smart home bus systems from surge damage and plugs directly onto the slot of the KNX bus coupler.
More Info